I'm am so excited to finally share my secret.
I STARTED MY OWN BUSINESS ON ETSY!
I can't wait to see my business grow and start the other phases I want to put in place in the future.
I've taken all the pictures that are being used! I've taken pictures in Charleston, SC, Nashville, TN, Franklin, TN, Thompson's Station, TN. Here are some samples and I hope to host a giveaway to launch my shop soon!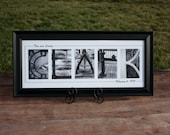 I am going to have some stock words like: Love, Hope, Faith, Family, and Blessed. I will also be making custom names with your last name. You will also have the option to have first names and a wedding date around the border. Check out my shop and let me know what you think!!
I also wanted to let you know about one of my very good friends just opening an etsy shop as well. She is hosting a giveaway on her blog: Kelsey Inspired
Check her out too!
P.S. Don't forget to enter my giveaway for a chance to win MyMemories software! It's so great! I'm going to be sharing some more projects soon!